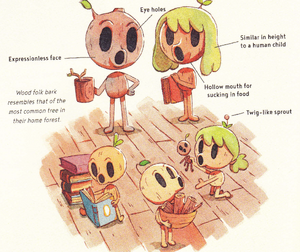 Wood Folk are a species of humanoid creatures made entirely of wood. The only known member of the species in the Hilda franchise is Wood Man, though in "Chapter 11: The House in the Woods", a portrait of a female member of the species is briefly seen.
According to Hilda's Book of Beasts and Spirits, Wood Folk are rare, solitary beings who make their homes in forested areas. They are quite sophisticated, with intelligence that surpasses most humans, and take pride in their taste for music, arts and books. They lack social skills, but nevertheless enjoy company.
Their wooden bodies allow them to blend in with their forst homes. They have no neck; their heads are suspended above their bodies. It takes constant concentration to keep the head in place. If the head does get lost, the body will frantically search for it.
Wood Folk are known to seek out their human neighbours, and bring firewood when they do. Since humans moved away to cities, the interaction between the two species has become uncommon.