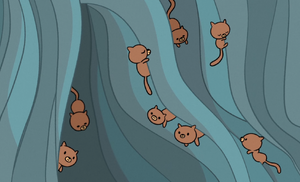 Nittens are tiny, catlike creatures, about the size of lice.
About
They are kept as pets by Elves, like the Elf mayor, who has a nitten named Angelina.
Nittens like to hide in the hair of humans, and presumably also animals. While there, they can cause symptoms identical to head lice, most prominently an itchy skin.
Angelina and her young are velourian silkhair. It's unknown how many other breeds of Nittens there are.
History
Trivia
The word "Nittens" is a mixture of the words "Nits" and "Kittens". This can be seen because the prefix "Nit" comes from "Nit", and "Tens" from "Kitten".
Gallery