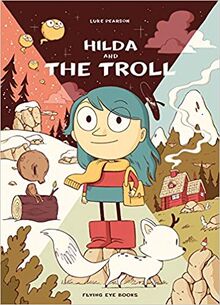 Hilda (also known as Hildafolk) is an award-winning British childrens' graphic novel series that features the titular protagonist Hilda, written and illustrated by Luke Pearson and published by Nobrow Press. The first graphic novel of Hilda was released in 2010.
Summary
The graphic novels are set in a fantasy world resembling a late 20th century Scandinavia place and are drawing inspiration mainly from Scandinavian folklore and folk tales and The Moomins. The titular character is a small girl, who in the first two books lives with her mother in a cottage on a plain surrounded by mountains and forests, but later moves to the city of Trolberg. Hilda's world is inhabited by regular people and fantastical creatures like trolls, giants, elves, and spirits. In the fourth book, Hilda joins Trolberg's Sparrow Scouts.
Source: Wikipedia
Novels
Translations
The graphic novels have been released in locally translated versions in several other countries, including France, Germany, Italy, Spain, Poland, Sweden, the Netherlands, Norway and Czech Republic.