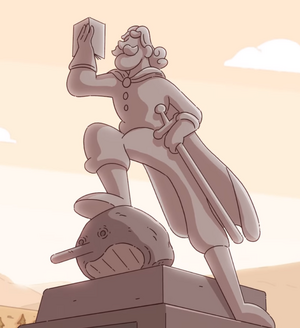 Edmund Ahlberg, nicknamed "The Troll Slayer", was one of the founders of the city of Trolberg, and also the founder of The Ahlberg School, which was named after him.
He does not appear in any of the graphic novels, but was created for the animated series. He is mentioned a few times in the novelization as well.
History
Not much is known about him, other than that he apparently killed at least one troll. In "Hilda and the Great Parade", Ms. Hallgrim describes him as the greatest trollslayer the city has ever seen.
In "Chapter 5: The Troll Rock", a statue dedicated to him was to be unveiled during Parent's Night at the Ahlberg School, but it got smashed by a Troll.
In "Chapter 8: The Tide Mice", Hilda discovers a biography about him in the Library, but never gets to read it since Twig discovers a hidden room.
In "Chapter 9: The Ghost", the statue is fixed again and seen outside the school, though in "Chapter 1: The Troll Circle", it is quite obvious that the statue has been patched up again after having been broken; it has cracks everywhere.
In the novel "Hilda and the Time Worm", while Hilda is fleeing from the titular Time Worm, she is briefly send back in time to ancient Trolberg, and witnesses Edmund Ahlberg and his army taking on an army of Trolls. This scene does not happen in the animated series.
Trivia
While the character does not appear in the graphic novels, another character sharing his last name does: Erik Ahlberg. On September 08 2020, it was confirmed that Edmund is indeed an ancestor of Erik.[1]
In the novel "Hilda and the Great Parade, a subplot involves the students from The Ahlberg School building a float in his honor for the Bird Parade. It is this float rather than a statue that gets wrecked by the Troll, forcing Principal Magnusson to cosplay as Erik Ahlberg on the float so the school can still participate in the parade.
The Hilda Tie-In Series reveals that besides the school, various other locations and buildings in Trolberg are named after Edmund Ahlberg.
A small subplot in the novelization involves Hilda failing to understand why a trollslayer like Edmund Ahlberg would be considered a hero, since she believes him to be a murderer who killed defenseless trolls.
References